Hello Browns Students and Families, Starting April 5th We are bringing ALL our students back to school 5 days a week from 8:30 to 12:30 Monday through Friday. The bus will be picking up and dropping off students each day. Masks are still required on the bus and at school for all students. Take home lunches will be available free each and everyday. Order the day before to make sure we have one for you. Those families who want to continue to stay on Distance Learning please let us know as soon as possible. That option will be available for all families who so chose. If a child comes to school with a fever of 100.4 or more they will be sent home immediately. Drop off is promptly at 8:30. Pick up time is promptly at 12:30. There are no exceptions. We do not have Daycare at this time. Please be aware that we may have to close classrooms or the entire school if there are 3 or more cases within a 14 day period. It will take a big effort on the part of our families to keep your children home with the slightest symptoms. Other topics to be aware of: • **Masks will be required for grades K-8.** • 6' social distancing will be implemented. • Daily temperatures will be taken each morning and throughout the day. • Students will not be allowed to attend in person if they have a fever, or any cold/flu symptoms, including runny noses, sore throats, coughs, etc. As always, please do not hesitate to contact us for any questions. Sincerely, Browns School

Good afternoon, Last Tuesday the Browns School Board hired Kerrie Corbridge to be the new Superintendent/Principal beginning the 2021-2022 school year. Mrs. Corbridge has been teaching here for over 15 years. She attended school here as did her daughter. She was by far the most qualified candidate and we are confident that Kerrie will be an excellent administrator. She holds the values and traditions of our school close to her heart and will ensure that Browns will remain the welcoming and safe place to bring your children. Sincerely, Browns School

Browns Elementary School Hello Browns Students and Families, Starting April 5th We are bringing ALL our students back to school 5 days a week from 8:30 to 12:30 Monday through Friday. The bus will be picking up and dropping off students each day. Masks are still required on the bus and at school for all students. Take home lunches will be available free each and everyday. Order the day before to make sure we have one for you. Those families who want to continue to stay on Distance Learning please let us know as soon as possible. That option will be available for all families who so chose. If a child comes to school with a fever of 100.4 or more they will be sent home immediately. Drop off is promptly at 8:30. Pick up time is promptly at 12:30. There are no exceptions. We do not have Daycare at this time. We hope to train our older students to be models for the younger students when they return. Please be aware that we may have to close classrooms if there are suspected cases of the virus. It will take a big effort on the part of our families to keep your children home with the slightest symptoms. Other topics to be aware of: • **Masks will be required for grades K-8.** • 6' social distancing will be implemented. • Daily temperatures will be taken each morning and throughout the day. • Students will not be allowed to attend in person if they have a fever, or any cold/flu symptoms, including runny noses, sore throats, coughs, etc. As always, please do not hesitate to contact us for any questions. Sincerely, Browns School

Here is your chance to get a vaccine.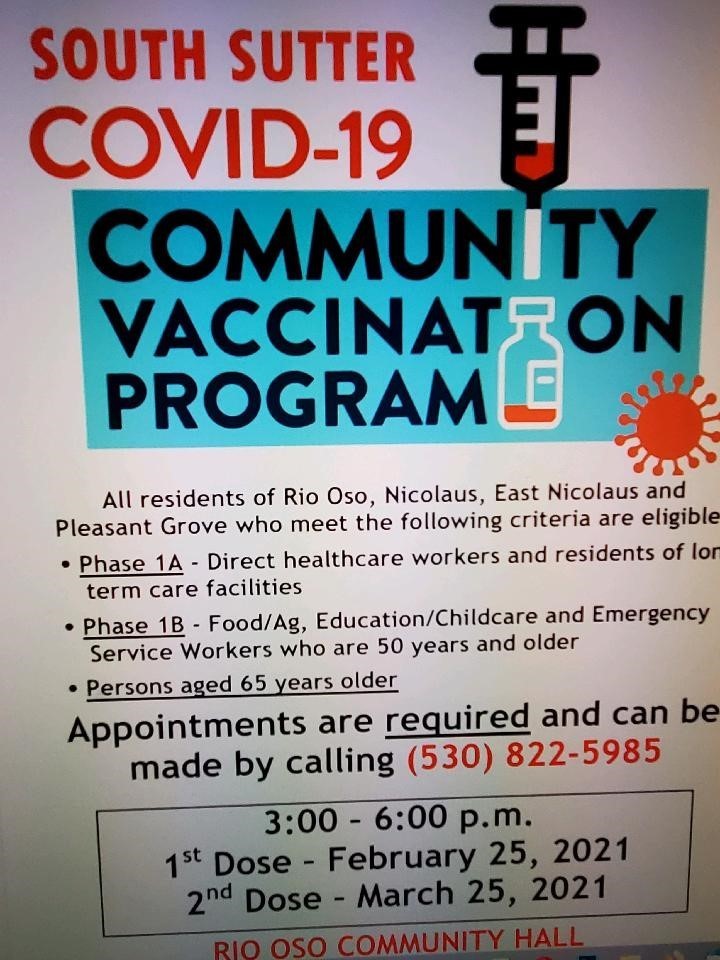 Browns Elementary School Hello Browns Students and Families, We are a go for getting our students back on campus in a phased manner. Dr. Luu sent us an email late last week given our school permission. Things will start slow and steady until we get the green light to get more students back on campus for longer hours. As stated by the California Department of Public Health we are bringing our students back in two cohorts. Cohort A (Last Names A-L) will be attending school on Mondays and Tuesdays. Cohort B (Last Names M-Z) will be Thursday and Friday. The one exception will be 2nd and 3rd grades. Second grade will be on Monday and Tuesdays. Third grade will be Thursday and Fridays. Wednesday will be distance learning for all students. We will be using Wednesdays for deep cleaning here at Browns. If you have specific needs, please contact your students' teacher. Starting February 16th, K-3rd grades will return. Starting February 22nd, 4th and 5th grades will return. Starting March 1st, 6th, 7th and 8th will come back. The recommendations from county health have been clear and consistent as far as opening, go slow! Meaning don't bring everyone back at once. Our goal is to have all students back on campus full days as soon as allowable by our State and County Health Departments. Upon the advice of public health, we will be returning slowly. We will be attending school from 8:30-11:30. Drop off is promptly at 8:30. If a child comes to school with a fever of 100.4 or more they will be sent home immediately. Pick up time is promptly at 11:30. There are no exceptions. We do not have Daycare or Transportation at this time. We hope to train our older students to be models for the younger students when they return. Please be aware that we may have to close classrooms if there are suspected cases of the virus. It will take a big effort on the part of our families to keep your children home with the slightest symptoms. Other topics to be aware of: • **Masks will be required for grades K-8.** • 6' social distancing will be implemented. • Daily temperatures will be taken each morning and throughout the day. • Students will not be allowed to attend in person if they have a fever, or any cold/flu symptoms, including runny noses, sore throats, coughs, etc. • Transportation will not be available. • Daycare will not be offered. • Meals will not be served daily, but continue for the week on Wednesdays. Lunches need to be ordered by 10 o'clock each Tuesday. As always, please do not hesitate to contact us for any questions. Sincerely, Mike Scully Browns School

There will be no Zoom meetings today as the internet at the school is down. Students can continue to work on any assignments in their folders. Due to power and internet outages, homework folders will not be available for pick up until Monday after 3:00.
Meal Pick Up Locations/Times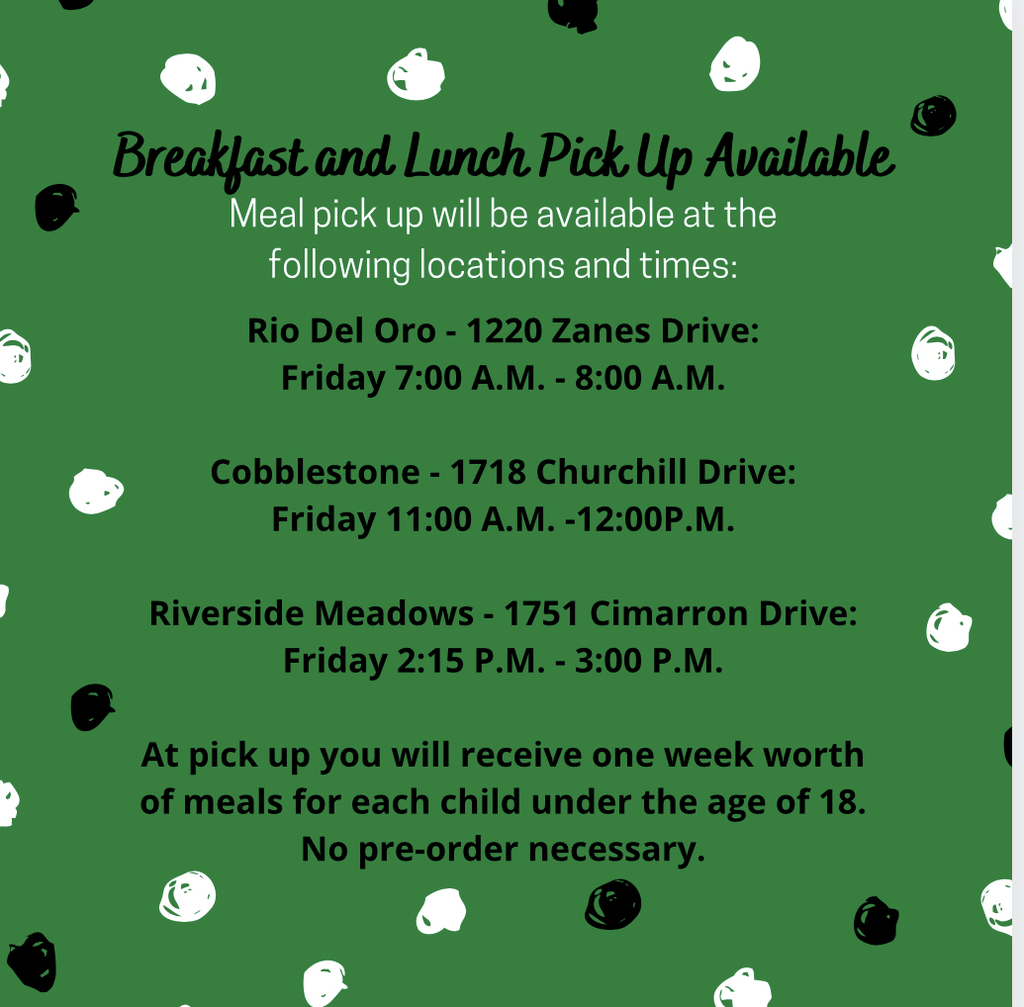 The power outage at the school remains in effect. Due to continued power outages at the school and internet connection issues, there will again be no zoom class meetings today. Students should check class schedules or check in on google classroom (if possible) to see a list of assignments for today. Thank you and stay safe.
Due to power outages at the school and internet connection issues, there will be no zoom class meetings today. Students should check class schedules or check in on google classroom (if possible) to see a list of assignments for today. Thank you.

Hello to our Browns School Families, Last week the California Department of Public Health came out with a 51 page document concerning reopening schools. All the items must be in place before schools can bring students back on campus. Our legal counsel has informed us that if a school reopens without following this order they will be subject to significant financial risk. Our local health department has told us not to reopen at this time. We can not afford this risk so we will follow all these guidelines before we bring students back. Thank you and take care.
https://www.cdph.ca.gov/Programs/CID/DCDC/CDPH%20Document%20Library/COVID-19/Consolidated_Schools_Guidance.pdf

Browns School 1248 Pacific Avenue, Rio Oso, CA 95674 530-633-2523  530-633-0345 Hello Browns School Families, 1/15/2021 We are still in Distance Learning until we get the permission from the Sutter Health Department to bring students back on campus safely. Hopefully by the end of next week we will have more information. I will give you all a weekly update on our status. Although current public health conditions remain fluid and very dynamic, we continue to work with public health and labor partners on how to reopen schools. We all want to bring students back to school safely. We understand the level of frustration felt by many and ask everyone to stay focused on learning, and to stay vigilant about hand washing, wearing face masks and keep social distancing, especially by avoiding social gatherings. Due to the current high positivity rate currently in the community we are not able to reopen for a few more weeks at the soonest. We are working on getting a date out but the Public Health Department needs to give us the green light. A ray of hope we are following are the recent public announcements that those who work in education will be in the county's 1b group to receive the COVID-19 vaccination. This is very promising and positive news for all of our staff. Based on recent District data, the threat of COVID-19 impacts not only our teaching staff, but also all of the essential workers who are critical for the operation of our District. Please stay tuned. If you have further questions please feel free to call us or email me directly. I am always willing to have a conversation with you at any time. Please take care and stay safe! Sincerely, Mike Scully Browns School
The Board Meeting scheduled for tonight, Tuesday, January 12th has been cancelled.

Important Meal Pick Up Information: Meal pick up Wednesdays from 10-11. Thank you. If you have any questions contact Debbi at 530-633-2523 or
debbib@sutter.k12.ca.us
.

Happy New Year!!!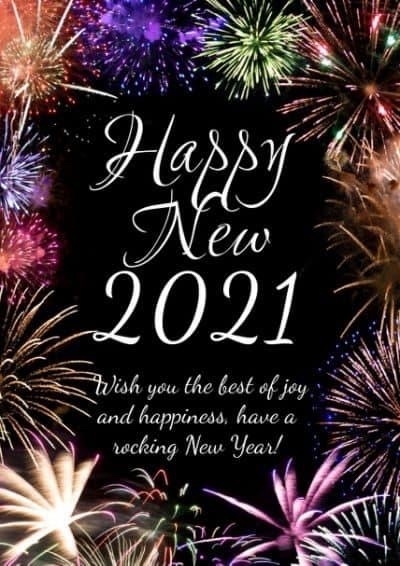 Merry Christmas

Good Afternoon Browns Students and Families, As we say goodbye to 2020 and embark on a New Year, it's time to discuss what that looks like. • There has been a significant increase in cases in Sutter and Yuba County. In fact I recently read that Sutter and Yuba counties have the highest number of cases per capita in the nation. o The information provided to me suggests that we are having a surge on top of a surge due to Thanksgiving.  The upcoming holiday season may accelerate the rise in cases again.  Please be safe. • We will begin the next semester on January 4th on distance learning. o We will continually evaluate the situation and once we are confident that the surge is behind us and it is safe, we will get back at school as soon as possible. o To maintain consistency we will stay on the same schedule for distance learning and upon our return to in person instruction, we will follow the same schedule that we were on for those few weeks in November. o The office will be closed for the next two weeks. Please email us and we get back to you as soon as we can. • I want to wish all a very Merry Christmas and Happy New Year. I wish to extend all my hopes, prayers, and blessings as we say goodbye to easily the longest, strangest, and difficult year we have all experienced; but as we move forward, we say Hello to a New Year in which there are infinite possibilities for us to achieve, embrace joy, persevere, and find success. Merry Christmas and Happy New Year, Browns School